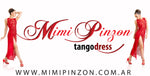 We are proud to be the signatures that accompany all those who are passionate about our dance, music and tango culture.
From August 23 to September 3, 2023 we will be present with our Stand presenting the entire new collection with exclusive unique designs that we created for this very important occasion in the world of Tango.
Tango BA Festival y Mundial, with the artistic direction of Natacha Poberaj, is a space to see the consecrated artists of the genre, meet the new generations and find out what is happening in the contemporary tango scene.It will be a great celebration of the culture of the River Plate with shows, exhibitions, concerts, tributes, dance, classes, movies, video clips, exhibitions, and book presentations.